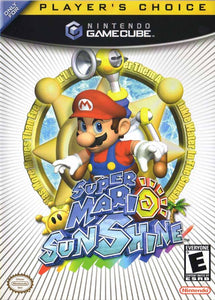 Genre: Adventure Platformer
When Mario, Peach, and an entourage of Peach's loyal Toad friends set out for a tropical vacation on lovely Isle Delfino, they're in store for much more than a relaxing holiday. A mustachioed maniac has mucked up the entire island, and Mario is accused of committing the crime. Armed with a hi-tech water cannon called FLUDD (Flash Liquidizer Ultra Dousing Device), Mario sets out to clean the island, clear his name, and solve the mystery of the villainous vandal. With new enemies, moves, and surprises, Super Mario Sunshine offers plenty of challenges.
No manual. There is a small tear in the top left cover of the front cover art.